Home
Monumental Computer Applications
Inc.
9 Genesee St.
Cherry Valley, N. Y.
USA 13320
607-264-3611
607-264-3307 FAX

®
Entry Level Manufacturing System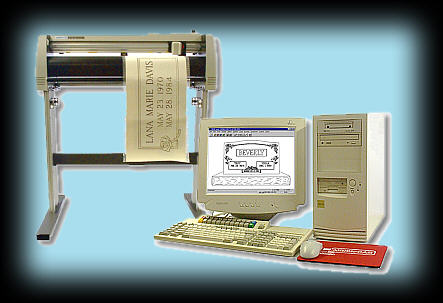 Pictured above is the

Monu-Cad Entry Level "starter" system.
Now you can layout memorials, input your own designs, change lettering styles, modify designs to fit your requirements, make scale drawings and full sizes and cut stencil in minutes rather than hours! If you have been waiting for the prices to come down, now is that moment! Just add your own computer and you are ready to work!
This system has been specifically configured to offer low to mid volume retailers a way to computerize their shop at a lower entry level cost. This "do it yourself" system will enable you to utilize the computer and printer that you already have in an effort to keep costs as low as possible. Ideal for all stone, glass and wood lettering and designing applications.
The Monu-Cad Entry Level System includes:
Monu-Cad Pro Windows Software

90 alphabets

15,000 monument designs

On Line Training Manual

1 Year VIP software phone support

Super Easy Click & Type® Technology and

the 30 Inch Wide Graphtec FC 7100-75 high speed cutter/plotter with 3 year warranty.
Special Introductory Price... just $9,995.00 USD
(this special offer may be withdrawn at any time)
---
For many years, the staff at Monu-Cad has listened to the many requests from low to mid volume monument dealers for a system which would give them the ability to utilize the latest computer manufacturing and point of sale technology in their businesses but at a much more affordable price level. Today, with the release of our New Monu-Cad Pro for Windows software, we are very pleased to announce that we have found the way to make this possible!

Special 36 Month Lease Available

Lease your Monu-Cad Entry Level System for 36 months for as little as $350.00/month. One payment in advance and for $1.00 at the end of the lease, the equipment is yours! Other terms and payment options available upon request.

For more information on the Entry Level System, please call

Toll Free
1-877-MONUCAD
(1-877-666-8223)
---
Computer Requirements for Entry Level System:
Any Windows 95-98-ME-NT-2000-XP based computer. Minimum suggested requirements for reasonable performance 64M RAM, 4G Hard Drive, Pentium III processor, 800x600 256 color video card, most any standard printer. Most new computers purchased within the past 6 months will be more than adequate.
This page updated 1-2-2006