Hello Monument Industry Members!
What is an .eZine? As you know, everything on the Internet has a unique name of its own and on the 'net, a newsletter or magazine is referred to as an eZine (like email...electronic magazine). This is the "Front Intro Page". To read the first issue, Click Here.
Welcome to the Monu-Cad .eZine!
The purpose of our eZine is to keep you up to date as well as we can on the latest goings on within our organization in as quick a way as possible. The Internet being instantaneous, I doubt that there will ever be a faster way in our life times. Special Interest articles will be published from time to time. If you have a topic you consider to be of interest to Monument Retailers and would like to have it published here, please drop us an e-mail.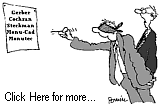 At some time in the future, we believe that this eZine will eventually replace our periodic Monu-Cad News! newsletter. Please keep in mind that this eZine is open to anyone who wishes to read it. As such, some subjects may not be printed here.
The articles presented may be more loosely formulated than in Monu-Cad News! because they will be more spontaneous and off the cuff in an attempt to get the news to you as quickly as possible. Don't be surprised if an article ends with ...to be continued. That will probably mean that I had to run off and handle a service question or take an order or am being corrected by Jean, Michele or Suzanne for messing up their schedule or something! In this case, just stop by again and you will find the article picked up where I left off. If at anytime you want to know more, just click on one of the email links and drop us a note. We'll do our best to reply as soon as we can. Don't be surprised if you find the most recent issue updated often ... even several times a day. As the thought occurs to us, we will add the information. This is instantaneous communication so why wait?
If your state organization is hosting a convention, we would be pleased to post a report and any photos you may take of the convention here in the Monu-Cad eZine. Simply contact me to discuss how you would like to proceed. Call 607-264-3611 or click here to send me email ( jim@monu-cad.com )
Please email to us your requests and comments about what you would like to see here (or what you wouldn't). We will try to make you happy. I hope you will enjoy this new part of our continued service.
To begin reading the eZine, click on the number of the issue you wish to read in the Table of Contents. Have Fun!
---
If you have an industry related item to sell or if you want to buy something, check out our Free Classified Ads link.
Gotta Gripe? Want to speak out on a subject? Want to ask a question? Then goto the Bulletin Board link. Please be as polite as possible. This service is Free.
We are building a page to provide links to the web sites of Retail Monument Dealers worldwide . We invite you to add a link to your site by sending an email containing your URL to us. This service is Free. click here to email
....stay tuned......Jim

If You would like to be notified by email when this newsletter is updated Click Here!

Table of Contents
Current Issue
updated 12-4-2000
(MonuCad Pro Ver.4.00)
Special Insert
MonuCad Pro
Free Download
Download page and info
Ver. 2.00.196 now available

New Entry Level System
$9,995.00 !!
---
Previous Issues
eZine Special 4-1-1999
(ICFA Convention Pictures!)
eZine Special 2-1-1999
(MBNA Convention Pictures!)
eZine Issue #1 1-16-1999
(1st Issue - Monu-Cad Articles)
eZine Issue #2 1-18-1999
(Elberton High School CAD Lab)
eZine Issue #3 2-5-1999
(Cad Shoot-Out Report)
eZine Issue #4 2-13-1999
(Win'95 Progress; Stencil Costs)
eZine Issue #5 5-1-1999
(Win'95 Progress; Stencil Costs)

142 Key CAD Worksaver
Programmable Keyboard
Read or Post
Free Classified Ads
Yahoo
Monument Business
Message Board
Links to Interesting
Monument Industry
Related Sites
Read letters sent in to the editor